5 Gifts For Autistics
Christmas is only 68 sleeps away and whenever people ask me what I want for Christmas or birthdays I've never known what I wanted, but since being diagnosed autistic I've come to realise that there are quite a few different things that I could do with. This could be either because it's beneficial, or just because I like it. So here's a list of a few ideas that you could buy for the autistic in your life. Please also be aware that this post contains Amazon Associate links, which means that if you purchase the items via the links I will earn a small commission. The exception to this is the very first link, which is to Chewigem, not Amazon, so it's not part of any affiliate program.
Chew Toys
Last Christmas is where I really started to realise that I had a problem with chewing. When I say "problem" I only mean in the sense that because I'd never had a chew toy at that point I resorted to biting my fingers and left them in a pretty bad state. At the time I didn't know what was available for a chewing need like mine, so I asked in a Facebook group and people suggested a few different places. The one I ended up going with was Chewigem who sell a whole variety of chew toys as well as other things like noise cancelling ear plugs for example. I'll leave the link
here
for the button necklace I've got from them, but obviously it's best to have a look at their full range and see what you/the person your buying for might prefer. One bit of advice to bear in mind is that each chewable item they sell shows the durability, flexibility and firmness of the item you're looking at. You'll need to check these to make sure you get a chewer that's right for you/them. I didn't know about this when I ordered my first chewer and got one that I chewed through pretty quickly because I'm a heavier chewer than I realised.
[Image description: My button necklace chew toy. It's circular and grey with a scaly pattern. The cord is black with a clasp in the middle and wrapped around in a circle-shape. The cord is tied to the chew toy through a small hole near the edge. The whole thing is sat on a wooden table.]
Fidget Toys
Some of Chewigem's items do cross over into the fidget category, but when I say fidget toys I mean things like fidget spinners, fidget cubes, stress balls, squishy putty and a whole lot more. One of my mutuals on Twitter posted a short video of her playing with some Thinking Putty which caught my eye as it looks great to play with. Another mutual uploaded a link to an Infinity Cube which also looks fun. There's a picture down below, and the link to the pictured Infinity Cube is
here
.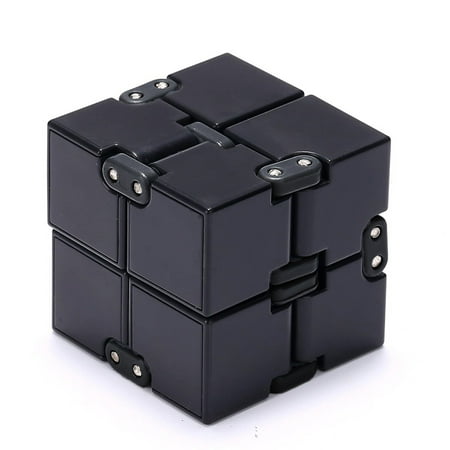 [Image description: A black Infinity Cube on a white background. The cube resembles a 4x4 Rubik's Cube and all the segments are joined by small hinges so that it can be unfolded, separated and played with.]
Sensory Aids
Depending on the needs or preferences of the autistic person you're buying for they may need any of a number of items to help with their sensory needs, and a lot of them fall within a reasonable gifting price range. The most common things are sunglasses and sound cancelling headphones but autistics can have a whole host of sensory issues so it's worth speaking to the person you're buying for if you're not sure what sensory preferences they have. It could be something as simple as loose fitting clothing for example.
[Image description: Sunglasses shown from the front on a plain background. The frames are thick and black, and the lenses are tinted blue.]
Weighted Blanket
This one tends to be quite expensive, but they can be quite helpful to a lot of people, not just autistics. My weighted blanket definitely helps me sleep, which is something I need since I work late and get up early with the kids. In fact, ever since my wife bought me it as an early birthday present a few months ago I've slept under it every night instead of our duvet. She got me it in the middle of summer when it's been quite warm, but I'm sure I'll use it a bit more in winter when I could do with a blanket while I work or while I play video games. My wife got me it quite cheap (we're talking under £30, as opposed to the usual hundreds) from a shop on Amazon that was quite new so they obviously wanted to get their foot in the door and some good ratings on the page. It's gone up in price since then as the shop gained more traction, but you can find my specific blanket
here
.
[Image description: My weighted blanket laid out neatly across my bed. It's a king-size bed with stripy, flowery bedding in grey and white. The blanket is dark grey with a soft and slightly fluffy top side.]
Special Interest Gifts
This one is pretty obvious, but any autistic loved one would be over the moon any gifts related to their special interest. Everyone has different interests but mine is professional wrestling. Last year one of the presents my wife got me for Christmas was a Becky Lynch action figure after I saw one in a shop and posted a picture of it on Twitter. This went alongside the John Cena figure I already had, and since then I've added Tyler Breeze and Alexa Bliss to the small collection. I'd be more than happy with almost any wrestling-related gifts. The kid in me would love a replica Universal Championship belt, but they're far too expensive and we've got nowhere to put one so that's not going to happen.
[Image description: The photo of the Becky Lynch figure that I posted on Twitter. It's from the Elite Collection and is from before her "The Man" gimmick as she's wearing her steampunk gear in the form of a long, black coat and brown top hat with goggles and a feather attached to it.]
These are my 5 gift ideas that you could buy for your autistic loved one(s). With any luck it's been helpful and given you some inspiration if you've been stuck on what to buy for them. As always, don't forget to follow me by hitting the "Subscribe" button at the top of the page, or on Twitter @DepictDave. It helps me out a lot!